Removal of a bathtub for the installation of a shower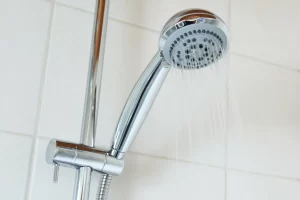 If you want to abandon your old and outdated bathtub and install a more modern, freestanding shower in your bathroom, you first need to remove the old tub. To do this, you will sometimes need to cut the tub into pieces to fit through the bathroom door. Unfortunately, this often requires removing the drywall around the tub as well.
Protect your flooring
Tape masking sheets to your bathroom floor to protect it and make it easier to clean.
Turn off the water
Turn off the water in the bath at the main shut-off valve. Test to see if the water is turned off by trying to turn on the water in the bathtub.
Remove the drain cover
Remove the drain cover and overflow cover by loosening the screws with a screwdriver. Use a flathead screwdriver to pry the covers open if necessary.
Remove the faucet knobs
Remove the faucet knob covers if you have a hot and cold water knob and then remove the screws and pull the knobs off. If you have a single water control handle in the center of the shower, remove the screw holding the plate cover in place.
Remove the faucet
Look under the faucet to see if it is held in place with a screw. If so, loosen the screw with an Allen wrench and pull the faucet away from the tub. If there is no screw, turn the faucet counterclockwise until it can be easily pulled out of the tub.
Access to the pipes
Locate the pipes that connect to the tub. If there is a basement or garage under the bathroom, you may be able to access the pipes from below by climbing a ladder.
Separate the drain pipes
You have to disconnect the two drain pipes – the main drain and the overflow drain.
Detach the surround from the drywall
Using a box cutter, cut a line through the sealant around the bathtub and acrylic tub surround (if present). Pry the edge of the surround off the drywall with a claw hammer, then pull on the surround to release it from the drywall.
Remove the tub
Cut the tub near the center with a jigsaw to separate it into two pieces.
Call the Emergency Plumber in Ipswich. We are 24 hours available. After your call, our Customer Service sends the right plumber to your place. Never hesitate to contact us, 01473792015.